CAMP HISTORY
August 1, 2003 to July 31, 2004
ANNUAL BUSINESS MEETNING, JULY 2004
BILL JOHNSON'S BIG APPLE RESTAURANT, PHOENIX, ARIZONA
ATTENDEES AT THE MEETING
Seated in front...Sam Perkins. Rear, left to right: John Crossen, Robert Perkins, Tom Tatum, and Dan Huskisson.

CAMP 1525 WINS NEWSLETTER AWARD
S.C.V. NATIONAL CONVENTION, DALTON, GEORGIA, JULY 2004
At the 2004 National Reunion of the Sons of Confederate Veterans in Dalton, Georgia, the Colonel
Sherod Hunter Camp 1525 newsletter, THE GUIDON, won the prestigious Dr. Paul Jon Miller Award
for Best Newsletter. This was the third time that Camp 1525 won this award (it also won in 1995 and 1999).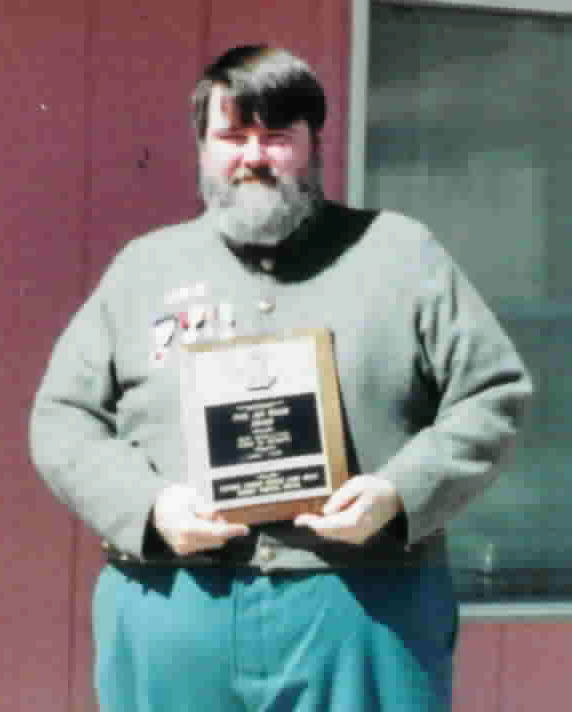 GUIDON Editor and Camp Commander Robert Perkins with the
2004 Dr. Paul Jon Miller Award.


Some clipart on this page was courtesy of


and

The music file of DIXIE is copyrighted by Voyetra Technologies (1990). Great, a'int it? For more great midi files like this one,
check out THE CONTEMPLATOR'S FOLK MUSIC SITE.


Back to Camp History Page

Back to Homepage.
Copyright 2007 by the Colonel Sherod Hunter Camp 1525, Sons of Confederate Veterans, Phoenix, Arizona.
All rights reserved. Last updated on 22 August 2007.