COLONEL SHEROD HUNTER CAMP 1525
SONS OF CONFEDERATE VETERANS
ANCESTOR BIOGRAPHIES
On this page are biographies submitted by Camp 1525 members
of their Confederate Ancestors.

SANDERS SAMUEL PERKINS
Ancestor of Robert Paul Perkins
Sanders Samuel Perkins, Sr., the great, great grandfather of Camp 1525 Commander Robert Perkins, was born in Greene County, Georgia, on February 14, 1831. He was the fourth and final son of John Ingram Perkins, of Greene County, and his wife, Nancy Ransom Perkins. It appears that his first name was not, at least originally, Sanders. Instead, it was a quite unusual name which was spelled as STEPHENANUS, or possibly STEPHANIOUS. Based on the way it was spelled in one document by someone who was evidently spelling it phonetically, this was likely pronounced as STEVENANUS or STEVANIOUS.
He must not have liked this unusual and cumbersome name, because it was later changed to Sanders Samuel Perkins. It appears that, like Ulysses Grant, this was done "off the cuff," so to speak, without bothering about legal niceties. Whether this was done by himself, or by his mother, and why the name "Sanders" was chosen as the replacement for his unusual and unwieldy first name is unknown. All we can say for certain is that, by the time he was 17 years old (1848), he was certainly being referred to by his new first name in legal documents. Whatever the case may be, he apparently liked to go by his middle name, "Sam."
Young Sam Perkins never got to know his father, who died on September 10, 1831, when Sam was less than seven months old. His mother, Nancy Ransom Perkins, would not long remain a widow. Indeed, she would marry, and then bury, no less than four husbands in the approximately 20 years after Sam was born. In 1833, she remarried to a gentleman named Randol Chapman. Chapman was a farmer in Greene County, Georgia, and the family remained there while Chapman lived. However, within four years, Chapman died. The following year (1838), Nancy married Henry Anderson. Anderson too, was a farmer, and he moved the family to Walton County, Georgia, prior to 1840. He lasted possibly seven years…by 1845, he was gone, and Nancy had married her fourth and final husband, William J. Darby. Darby kept the family in Walton County, where they are listed in the 1850 Census. But he, too, died within a short time after 1850. Needless to say, with all this going on, young Sam probably didn't have a very stable home life.
On July 10, 1859, Sam Perkins was married to Mary E. Reynolds in Taliaferro County, Georgia. Mary Reynolds was born in 1832, probably in Warren County, Georgia. Her parents were Harmon Reynolds and his wife, Sarah Wynne Reynolds.
By the time the Census-taker came to call in June 1860, Sam Perkins had moved to the growing new city of Atlanta, in Fulton County, Georgia, where he worked as a Railroad Conductor. Living in the household with him were his new wife, Mary, and their eldest son, John, who had apparently been born only two months before (in April 1860). Also living with them were Sam's mother, Nancy Darby, and Sam's half-brother, Alfred Washington Chapman (born 1835, son of Randol Chapman), whose occupation is listed as "Locomotive Engineer." There are also, oddly, three other men, all between 22 and 25 years old, living in the household, none of whom seem to be related to the family, and all of whose occupations are listed as "Locomotive Fireman." So it appears that Sam's whole train crew may have been boarding together in the same house! And there was one other person living in the household…the slave of Sam Perkins, a little five-year old black girl. Evidently, Sam's job as a Railroad Conductor had provided him with a fairly prosperous lifestyle, allowing him to enter the slave-holding class.
When war clouds burst over the nation in 1861, Sam Perkins did not join in the initial rush to enlist. Probably, as a railroad employee, he was encouraged to retain his job in this vital war industry. But Sam, for whatever reason, could not resist the urge to enlist forever, and at Crawfordville, Georgia, on July 15, 1862, he enlisted as a Private in Company E, Claiborne's Regiment of Partisan Rangers. At the time of his enlistment, Sam's wife, Mary, was pregnant with their eldest daughter, Sarah Jane Perkins, who would be born on October 28, 1862. We don't know how Sam felt about leaving his wife behind in this condition, but we do know that Sam probably didn't see his daughter until she was two and a half years old.
Sam's enlistment record indicates that, at the time he enlisted, he was six feet tall, with brown hair, blue eyes, and a fair complexion. Since there are, unfortunately, no surviving pictures of Sam Perkins, this description is the only indication his descendants have about how he might have looked.
Colonel W.C. Claiborne's Regiment of Partisan Rangers, which was later redesignated as the Seventh Confederate States Cavalry, was organized under the authority of the "Act to Organize Bands of Partisan Rangers," passed by the Confederate Congress in April 1862. While many Partisan Ranger Regiments were raised by the individual States under authority of this Act, the particular regiment which Sam joined happened to be one of two regiments and three battalions of Partisan Rangers which were raised directly by the Confederate Government. Thus, they were part of a very small group of Confederate soldiers who served in the Confederate Regular Army, rather than the Provisional Army (which consisted of volunteer units raised by the States for the duration of the war only, in which almost all Confederate soldiers served). One interesting feature of Claiborne's Regiment which resulted from it being raised by the Confederate government directly was that it was composed of ten companies, five of which were composed of Georgians, and five composed of North Carolinians. Thus, it was one of the very rare Confederate regiments which contained within it's ranks men from two different States.
One might wonder why Sam chose to join a Partisan Ranger regiment. While the answer to this cannot be known with certainty, since Sam left no diary or letters behind to explain his reasoning, it is interesting to note that the 1862 Partisan Ranger Act allowed members of Partisan Ranger Regiments to be paid, in cash money, by the government for any equipment the soldier might capture from the enemy. This was a privilege not granted to those who joined line units, and it proved a very powerful incentive for enlistment into Partisan Ranger units Indeed, so powerful was the attraction that within a short time, the government was forced to prohibit transfers from line units into the Partisan Ranger Corps! Whether or not Sam was drawn in by this promise of easy money, who can say? But it probably would be a fairly good bet that it played at least some part in his decision.
Sam Perkins was apparently a good soldier, and saw rapid promotion. In August 1862, he was promoted to Fourth Corporal of the regiment, which had, by that time, been redesignated as the Seventh Confederate States Cavalry. By November 1862, he had risen to Third Corporal, and by January 1863, he was promoted to Stable Sergeant. In November 1863, he rose to Fifth Sergeant, a rank he apparently held until the end of the war.
The Seventh Confederate States Cavalry did not serve with any of the major armies. For most of the war it served in the coastal areas of North Carolina or in southern Virginia. As it did not serve with a major army, pinpointing it's activities has been somewhat difficult. But I have been able to glean the following information from the OFFICIAL RECORDS. It is not known what part Sam Perkins played in all of this, but he was certainly involved in a good portion of it.
The first recorded engagement in which the Regiment participated was on December 12, 1862, a small battle at Joyner's Ford of the Blackwater River, near Ivor Station, Virginia. Only Company D of the Seventh Confederate Cavalry was involved in the engagement, so Sam Perkins was most likely not involved in this affair.
Nothing more is known of the Regiment's activities until July 31, 1863, when they are listed as being stationed at Kenansville, North Carolina, and assigned to the District of Cape Fear within Major General W.H.C. Whiting's Department of North Carolina.
On October 6, 1863, the Regiment, which was at the time located in the region between the Roanoke River and Wilmington, North Carolina, was ordered to report to General Lee at Orange Court House, Virginia. However, after protests by Major General George Pickett, who was at the time commanding in North Carolina, that removal of the Regiment would leave "not more than 200 effective cavalry" in the region, the order was canceled on October 8, and the Regiment remained in North Carolina.
It appears that shortly after that, however, the Regiment was ordered into Virginia. On November 11, 1863, the Seventh Confederate Cavalry Regiment, along with the Seventeenth Virginia Infantry, left their camp near Ivor Station, Virginia with the intention of attacking a Union force which was near Suffolk, Virginia. The element of surprise was lost when a detachment of the Seventeenth Virginia was captured by the enemy, who destroyed all the boats and bridges over the Blackwater River and established a heavy picket line in anticipation of the attack. But the Seventh Confederate Cavalry nevertheless made a dash into Suffolk itself and made off with a wagon, 8 horses, and 7 prisoners. So the expedition wasn't a total loss.
It is unknown if the entire Regiment went to Virginia at this time, however. As of November 27, 1863, and December 31, 1863, the returns of the Department of North Carolina, commanded by Major General Pickett, still list the Regiment as being at Ivor Station, Virginia. But on January 29, 1864, the commander of a Union expedition into Jones and Onslow Counties, North Carolina reported capturing 23 men of the Seventh Confederate States Cavalry near Newport, North Carolina. As of February 29, 1864, the returns for the Department of North Carolina list 97 men of the Seventh Confederate Cavalry assigned to the Department, and the Department of Cape Fear, commanded by Major General W.H.C. Whiting, shows only two companies of the Seventh Confederate Cavalry among the forces assigned to the Department.
So it appears that two companies of the Seventh Confederate Cavalry either were returned to North Carolina in January 1864, or possibly stayed behind when the rest of the Regiment was sent to Ivor Station, Virginia in November 1863. It is not certainly known which companies were involved, but it was probably Companies D and E. These companies are specifically listed as being stationed at Masonborough Sound, near Wilmington, North Carolina, in a report dated September 1, 1864. And a January 6, 1865 report by General Braxton Bragg stated that "Companies D and E, Seventh Confederate Cavalry…have just been ordered to Virginia. This would have been sooner done but for the many unexpected changes here and the nature of recent operations." Therefore, Sergeant Sam Perkins, who served in Company E, would have likely been one of those who was assigned back to, or whoremained in, North Carolina when the rest of the Regiment was sent to Virginia.
Through much of 1864, the bulk of the Seventh Confederate Cavalry Regiment served in southern Virginia, near Portsmouth, and later, near Petersburg, taking part in several major actions during the Bermuda Hundred and Petersburg Campaigns. While it is, of course, possible, that Companies D and E may have been sent to Virginia to rejoin the rest of the Regiment sometime after February 1864 and then returned to North Carolina sometime prior to September 1864, there is no evidence to support his. Sam Perkins was therefore probably not involved in any of these actions, as he was likely among those remaining in North Carolina while all this was going on.
On September 1, 1864, Sergeant Sam Perkins was captured by Union forces in Jones County, North Carolina. The exact circumstances of his capture are unknown. After his capture, he was initially sent to a temporary prisoner of war camp in Virginia called Camp Hamilton, arriving there on October 8, 1864. On October 10, he was sent to Fortress Monroe, Virginia, and from there, to the infamous prison camp at Point Lookout, Maryland, where he arrived by October 14. He would spend the next five months rotting in this notorious Union hell-hole.
One minor mystery crops up in the records generated during his imprisonment. For some reason, Sam is referred to both as "Sanders S. Perkins" and as "Stephenious S. Perkins" in the records of Point Lookout prison. Why, after using his new first name for over a decade, would Sam suddenly revert to his old, long-abandoned moniker again while in prison camp? Was he, perhaps, playing some sort of mind game with his Yankee captors, using both names in an effort to create confusion? The answer will, unfortunately, have to remain unknown.
On March 17, 1865, Sam Perkins was sent from Point Lookout to Aiken's Landing, Virginia, where he was exchanged. Given the horrid conditions at Point Lookout, he was probably in pretty bad health when released, and after returning to his unit, he seems to have been granted a furlough home. He apparently never afterward returned to his unit before the end of the war, but came in to surrender at Augusta, Georgia, on May 26, 1865. At the time of his surrender he was listed on his parole records as a Sergeant in the Tenth Georgia Cavalry…this was because the Seventh Confederate Cavalry had been broken up shortly after Sam had been captured, with the Georgia companies forming the basis for the new Tenth Georgia Cavalry, and the North Carolina companies forming the basis for a new North Carolina regiment.
After the war, Sam Perkins moved with his wife and children to the town of Rutledge, in Morgan County, Georgia. He lived there, except for a brief period in the early 1900s, for the remainder of his life. He took up his old job as a Railroad Conductor, working for the Georgia Railroad, which ran between Atlanta and Augusta, Georgia. It was in Rutledge that all of his other children were born…Alonzo Harmon Perkins (my great grandfather), born on March 12, 1867; Robert W. Perkins, born in 1869 and apparently died young; Sanders Samuel Perkins, Jr., born in 1870; Martha (or Mattie) Perkins, born 1872; and Mary (or "Mollie) Perkins, born in 1874. All of his sons who survived to adulthood…John, Alonzo, and Sam…would follow in their father's footsteps and pursue careers with the Georgia Railroad, all working as Locomotive Engineers.
Toward the end of his life, Sam Perkins went to live in the Confederate Soldier's Home of Georgia, located in Atlanta. It is unknown what circumstances lead to his decision to take up residence there, or exactly when he went to live there, but by May 1911, his wife, Mary E. Perkins, was evidently in control of the family property. She signed a deed, selling the family home place in Rutledge, Georgia to their son, Sanders Samuel Perkins, Jr., on May 22 of that year. Sam, Sr., did not sign the deed, so he may already have been living in the Soldier's Home in Atlanta by that time. He was released from the Soldier's Home at his own request on October 22, 1912, and went home to Rutledge, where he most likely lived with his son, Sam, Jr. He died on June 12, 1913, and was buried in Rutledge. The name of the cemetery is not known. His June 13, 1913 obituary in the local newspaper, says " He was a fine old gentleman, a consecrated Christian and greatly esteemed by all who knew him."
One interesting note in the obituary is that Sam is called "Captain Sam Perkins!" Since he never achieved a rank higher than Sergeant during the war, it is unknown why the obituary refers to him in this way. It could possibly have been a United Confederate Veterans rank, but it is not known if he was ever a member of the U.C.V.
His wife, Mary E. Perkins, survived him by exactly nine days. According to her obituary, published in the Rutledge, Georgia newspaper of June 29, 1913, after the death of her husband she had gone to visit her daughter in Camak, Warren County, Georgia. She was found, dead in her bed, on June 21, 1913. She was brought back to Rutledge, where she was interred beside her husband. Her obituary, like Sam's own, mysteriously refers to her husband as "Captain Sam Perkins."
Sam's son, Alonzo Harmon Perkins, as mentioned previously, worked as a Railroad Engineer for the Georgia Railroad, living at different times in Augusta and Atlanta, Georgia. He was married in Augusta, Georgia on December 25, 1893 to Frances Travis Thrasher, known to the family as Fanny. On July 4, 1897, Alonzo and Fanny had a son, who they named Harmon Barton Perkins. Alonzo Perkins died on September 17, 1936 in Atlanta, Georgia.
Harmon Barton Perkins, my grandfather, was a veteran of the U.S. Navy in World War One, and later worked as a production supervisor the Nabisco factory in Atlanta. He was married twice. His second marriage was to Anne Mae Mays in Atlanta, Georgia on July 7, 1934. Harmon and Anne had a son, named Harmon Travis Perkins, born on March 14, 1936 in Atlanta. Harmon Barton Perkins died in Atlanta on July 23, 1960.
Harmon Travis Perkins, my father, joined the U.S. Coast Guard in the early 1950s, and later served in Southeast Asia during the Vietnam War. After coming home from the war, he had a long career as a civilian electronic warfare specialist for the U.S. Army and Air Force. He was married on November 27, 1958 in Kingsland, Georgia, to Connie Jean Sapp. On April 18, 1863, at Wheelus Air Force Base in Tripoli, Libya, Harmon and Connie had a son…myself.
I am proud to be a descendant of Sergeant…or Captain, as the case may be…Sam Perkins, and I thank you for listening to his story today.

Some clipart on this page is courtesy of

and

The music file of DIXIE was composed and is copyrighted by Barry Taylor. Great, ain't it? For more great tunes like this one, visit THE CONTEMPLATOR'S FOLK MUSIC SITE.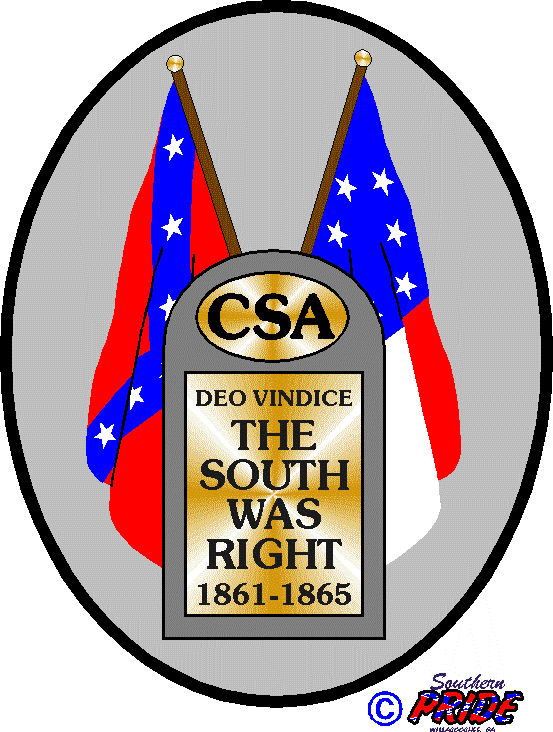 RETURN TO THE CONFEDERATE MEMORIAL PAGE.
Copyright 2003-2009 by the Colonel Sherod Hunter Camp 1525, Sons of Confederate Veterans, Phoenix, Arizona. All rights reserved. Please direct questions or comments about this site to the Webmaster. Last updated on 1 May 2009.