CONFEDERATE MEMORIAL PAGE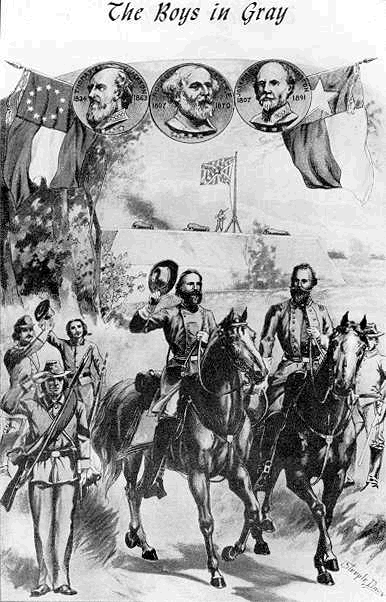 This site is dedicated to "The Boys in Gray," our ancestors in the Confederate Army, and details many of the memorial activities our Camp has undertaken. It will also provide biographies of the Confederate ancestors of various Camp members, and information about Confederate Veterans buried here in Arizona. Follow the links below to see what we have been up to in the past, and what we are doing now.

DATABASE OF CONFEDERATE VETERANS BURIED IN ARIZONA

Why do we do all of this? The words of former Confederate Chaplain Reverend Doctor Randolph Harrison McKim, inscribed upon the Confederate Memorial at Arlington National Cemetery, say it all...
NOT FOR FAME, NOT FOR PLACE OR RANK, NOT LURED BY AMBITION NOR GOADED BY NECESSITY, BUT IN SIMPLE OBEDIENCE TO DUTY AS THEY UNDERSTOOD IT, THESE MEN SUFFERED ALL, SACRIFICED ALL, DARED ALL, AND DIED.
How can we do less than our best to honour these men, who gave their all for the cause of Southern Independence?
DEO VINDICE!

Some clipart on this page is courtesy of


and

The music file of THE WEARING OF THE GRAY was composed and is copyrighted by Benjamin Tubb. Great, ain't it? For more great tunes like this one, visit his website, The Music of the American Civil War (1861-1865).