The Arizona Division,
Sons of Confederate Veterans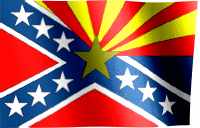 and the
Colonel Sherod Hunter Camp 1525
Sons of Confederate Veterans,
Phoenix, Arizona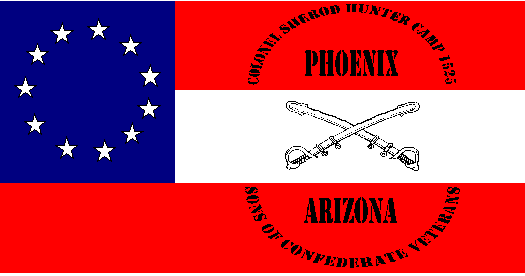 Cordially invite you to attend
LEE AND JACKSON DAY 2007
Celebrating the 200th Anniversary of the Birth of
GENERAL
ROBERT EDWARD LEE
and the 182nd Anniversary of the Birth of
LT. GENERAL
THOMAS JONATHAN JACKSON
to be held
Saturday, 20 January 2007, 11:30 a.m.
Bill Johnson's Big Apple
16810 N. 19th Ave., Phoenix, Arizona
Southwest corner, 19th Avenue and Bell Road
Meal selections will be as follows...
Three Meat Combo (BBQ Beef Brisket, Pulled Pork, Hot Link Sausage)
Sirloin Steak Sandwich
Breaded Icelandic Cod
Broiled Chicken Breast
Malibu Chicken Breast
Chicken Fried Steak
(Three Meat Combo, Sirloin Sandwich, and Icelandic Cod meals served with Steak Fries and Cole Slaw;
Broiled Chicken, Malibu Chicken, and Chicken Fried Steak are served with Mashed Potatoes, vegetable, and dinner roll. All meals served with choice of coffee, tea, or soft drink).
This year we will be honoured by the presence of
GENERAL LEE
(Portrayed by Dick Sherwood)
and
GENERAL JACKSON
(Portrayed by David Barton)
In addition to an excellent repast in a relaxed setting, those attending will enjoy good company, raffles, and the ever-popular Lee and Jackson Confederate Trivia Contest...in honour of the Bicentennial of General Lee's birth, we are awarding some extra special prizes this year, so don't miss out!
It promises to be an excellent day of good times and remembrance of two of the South's greatest heroes.
Cost is $15.00 per person, payable in advance. Make checks payable to "Camp 1525, S.C.V."
Or, if you prefer, you can use our secure online ordering system to make your
reservation by Visa or Mastercard.
Please RSVP by 12 January 2006 to
COLONEL SHEROD HUNTER CAMP 1525
SONS OF CONFEDERATE VETERANS
P.O. BOX 5994
PEORIA, AZ 85385-5994
For more information, contact Commander Robert Perkins
(623) 877-3738
or by email at robertp6165@yahoo.com.
Y'ALL COME!