AWARDS
The following awards have been presented to the Colonel Sherod Hunter Camp 1525 in recognition of the quality of our website. We are very honored to have received these awards, and to the various organizations and individuals who have seen fit to recognize our efforts, we say, in traditional Southern parlance...
"Aw, shucks! Thank y'all! Much obliged!"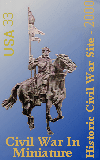 Presented 6/23/2000
"Please accept, the 2000, "Civil War in Miniature" Historic Site Award. Your site is being awarded
because of its excellence, unique format, historical significance and because of its contribution to
students, educators and interested parties of the great American Civil War... Congratulations on your
hard work and diligence. The Internet is a better place because of your contribution! The intention of
the Internet was to spread knowledge and be an information highway, therefore, your contribution is
vital to everyone!"--Roger Curry, THE CIVIL WAR IN MINIATURE

Civil War Site Of Excellence Award
Presented 6/24/2000
"I recently visited your site and definitely believe it deserves recognition. I enjoyed the great graphics
and the wonderful information provided at your site. You should be very proud of your accomplishments
and keep up the wonderful work. I am proud to present you, The Colonel Sherod Hunter Camp 1525
S.C.V., with the Civil War Site Of Excellence Award."--Josh Blair
Presented 6/25/2000
"I just received your submission for the Outstanding Site Award today. In light of the outstanding work
you have done researching this all too neglected subject, it did not take long at all to decide that your
site is certainly deserving of it."--Allan Williams, THE CONFEDERATE SITE OF AMERICA
Presented 6/25/2000
"I have reviewed your site and found that it is indeed a Nice Site. The Colonel Sherod Hunter Camp
1525 more than qualifies for the Jackson Light Artillery "Nice Site Award" so congratulations on
winning this award."--Greg Booth, JACKSON LIGHT ARTILLERY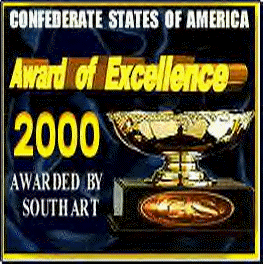 Presented 6/26/2000
"Y'all's Site is most informative, educational, designed extremely well. We could go on and on but we
will just say ONE OF THE BEST CONFEDERATE SITES ON THE WEB. And most deserving of the
South Art award. Keep up the good work!"--South Art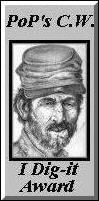 Presented 6/28/2000
"I am pleased to award your site "PoP's I-Dig-It' Award". Your devotion is evident in your work, many
will learn from your well done site. This is what PoP's Award is all about."--Tommy "PoP" Aaron,
PoPcoRn's Civil War

Presented 7/1/2000
"In recognition of a superb and outstanding site, it is my honor to award you the Cavalry Award of
Excellence Site Award. Your site is a real credit to your devotion, hard work and love for the history and
heritage of Company A, Baylor's Regiment of Arizona Rangers and all the other information you have
on Arizona in the War. Please except the award with my gratitude for a job well done. It is a real
pleasure to have a site that is from the Western theater of the War."--James Stump, 18th VIRGINIA
CAVALRY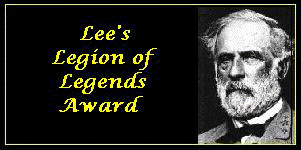 Presented 7/4/2000
"I recently visited your site and enjoyed what I saw. Congratulations on a great page!
CONGRATULATIONS...Your site has been awarded the Lee's Legion Of Legends Award."--Peter
Rodier (aka Gen. Lee), GENERAL LEE'S HEADQUARTERS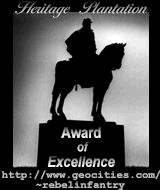 Presented 17 July 2000
"It is my pleasure to award you the Heritage Plantation Award of Excellence. I have thoroughly
enjoyed your wonderful site. It would be my honor to have this award appear on your site." Joe Davis,
Rebmaster, HERITAGE PLANTATION.

Presented 8 September 2000
"We're pleased to inform you that your site did score higher than 3-stars (out of five), and has been
posted in Civil War Interactive's LinkCentral. Congratulations on a fine site!" Joe Avalon, Editor,
CIVIL WAR INTERACTIVE.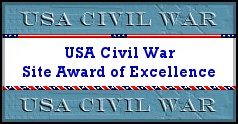 Presented 25 August 2002
"It was a pleasure visiting your site, especially a site such as yours that describes the history of the brave
soldiers who fought and served in Western Battle Theaters. Keep up the great work!"--Keith Glenn,
Webmaster, USA Civil War
Presented 27 August 2002
"On behalf of the men of the 7th Mississippi infantry regiment and their descendants please accept our 5
Star Award. Thanks in advance for accepting. I greatly enjoyed my visit and will add you to the winners
list immediately. Wishing you all the best in your efforts to honor our heritage"--Jamie Roberts,
PoBoy's Civil War.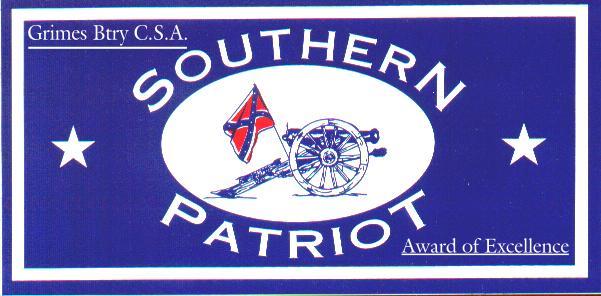 Grimes Artillery Battery, CSA,
Southern Patriot Award of Excellence
Presented 28 August 2002
"I must say you have really created a true testament to the South. I have enjoyed reviewing your pages
and loved the graphics and info provided." T.H.Hendrickson, Grimes Battery, C.S.A.



Clipart on this page is courtesy of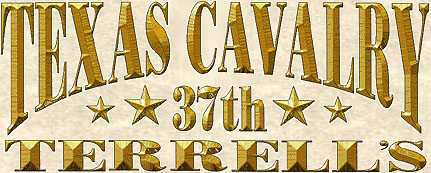 and

The music file of "All Quiet on the Potomac Tonight" was composed and is copyrighted by Barry Taylor.
Great, a'int it? For more great tunes like this one, visit THE CONTEMPLATOR'S FOLK MUSIC
SITE.


Back to Homepage
Copyright 2000 by the Colonel Sherod Hunter Camp 1525, Sons of Confederate Veterans, Phoenix,
Arizona. All rights reserved. Last updated on 6 August 2007.