JOHN ELLIOTT WALKER
Confederate Veteran and Maricopa County Sheriff
By Robert Perkins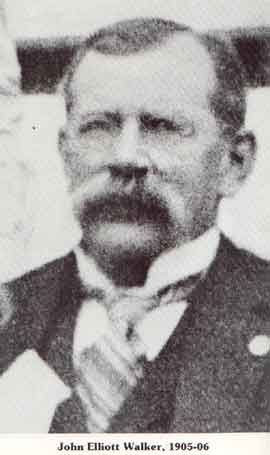 John Elliott Walker was born on September 24, 1847 near Orange Court House, Madison County, Virginia. He was the son of James W. Walker, Jr., and his wife, Mary J. Walker (whose maiden name may have been Elliott). Young Elliott, as he was called, was born into a wealthy Virginia slave-holding family. His father, James, Jr., owned land valued at $24,000.00 and personal property...including 23 slaves...worth $18,000.00, at the time of the 1860 Census. His grandfather was even wealthier, owning no less than 55 slaves.1
In 1864, at the age of 16, John Elliott Walker joined Company E, 43rd Battalion of Virginia Cavalry (Mosby's Rangers), under the command of Colonel John Singleton Mosby.2 Elliott was by no means unique in having enlisted in this command at such a young age…Colonel Mosby, himself, actually preferred teen soldiers, saying, "They are the best soldiers I have. They haven't sense enough to know danger when they see it, and will fight anything I tell them to."3
Little is known about John Elliott Walker's military service, but he was apparently captured in Loudon County, Virginia, on May 20, 1864, and confined at Old Capitol Prison in Washington, D.C.4 Old Capitol Prison was not normally a destination for Confederate prisoners of war, especially those of low rank. Lt. Colonel Newton T. Colby, the Union Superintendent of the prison for a period in the latter part of the war, noted in a postwar article that it usually housed "the prisoners of State particularly, such as parties charged with active disloyalty at the North, bounty frauds, counterfeiters of United States notes and other issues, contractors who had swindled the government, and, I doubt not, men who were arrested by detectives upon trumped-up charges simply to blackmail them, and who were wholly innocent." Some prisoners were Confederate spies, such as the famous Belle Boyd and Rose O'Neal Greenhow. Some Confederate military prisoners were confined there too, but, Colby goes on to say, they tended to be high-ranking officers, and "very few privates of the Southern army found their way here, except they were special cases.…it was the pleasure of the authorities to regard those captured from Mosby's following (" guerrillas") as special cases…"5 By "Special Cases," it was meant that Mosby's men were considered "desperate men" and not subject to the normal rules of war. And so Old Capitol Prison became a routine stop for them when they fell into the hands of their enemies.6
On June 15, 1864, John Elliott Walker was transferred to the infamous Union prisoner of war camp at Fort Delaware.7 However, there is no record that he actually arrived at, or was held at, Fort Delaware, and by September 1864, he was definitely back in Virginia. Did he escape, or was he paroled? The records do not say. But quite often, the younger members of Mosby's command were able to convince the Union authorities that they were actually civilians who had been wrongfully taken prisoner, and thus gain their freedom.8 So maybe that is what happened in this case.
Be that as it may, we do know that in September 1864 John Elliott Walker enrolled as a cadet at the Virginia Military Institute, and attended that prestigious institution until February 24, 1865.9 V.M.I.'s campus buildings in Lexington, Virginia, had been shelled and burned by Union forces in June 1864, and classes had been removed to the Alms House in Richmond, Virginia, where they remained until the end of the war. The school in Lexington would not reopen until October 1865, so it is likely that young Elliott took his classes in Richmond.
After the war, John Elliott Walker returned home to his family in Madison County, where he is listed as a farm hand on his father's farm in the 1870 Census of that County. Life as a farm hand apparently didn't appeal to Elliott, because around 1872 he left Virginia and went to California, settling in Sonoma County. He is found there, in the town of Bodega, working as a Real Estate Agent in the 1880 Census.10
He didn't remain in California, however, and in the early 1880s went to Arizona. He first worked as a miner, possibly as early as 1881, in the area of Duncan, Arizona (near the border with New Mexico), then moved to Tucson, where, in 1886, he married Matilda Robbins.11
Little is known of his doings in Tucson, but he did not remain there long. That same year, he moved to Phoenix, in Maricopa County, Arizona, where he took a position as the Clerk of the District Court of Maricopa County, serving during the administrations of Judges Porter and Kibbey, who held their judgeships throughout the latter half of the 1880s. Shortly after being appointed Clerk of the District Court, he was also appointed as Clerk of the Arizona Territorial Supreme Court. In 1890, an election brought in a new Republican administration, and Walker, a Democrat, lost his positions with the District Court and the Supreme Court. However, in 1892, the Democrats returned to power, and Walker was once again appointed Clerk of the Maricopa County District Court under Judge Baker. He held this post until 1897, when the Republicans once again returned to power.12
During the Administration of Maricopa County Sheriff James K. Murphy, who served during 1893 and 1894, John Elliott Walker served successively as Jailor, First Deputy, and Undersheriff. Toward the end of Murphy's term he left his position as Undersheriff to take a position as Receiver for the Hartford Banking Company.13
One minor mystery concerns his appearance in the 1900 Census. At that time he was living in Coconino County, not Maricopa County, and his profession was listed as "merchant." Why he was living in Coconino County, or when he moved there, is unknown. Perhaps, having lost his positions with the installation of the new Republican administration in 1897, he left Maricopa County at that time and tried to start a new life in Coconino County. There is no way of knowing for sure.14
However, he didn't remain in Coconino County for long after the 1900 Census was taken, as in November 1900, John Elliott Walker was the Democratic candidate for the post of Maricopa County Treasurer. He won the election, and ultimately served two terms in this office, being reelected in 1902. Finally, in 1904, he was nominated as the Democratic candidate for the office of Sheriff of Maricopa County. He won this election as well, and served in this post until his death.15
Another mystery concerns whether or not he had any children. No children are listed in any of the Census records for him, but news articles and obituaries published at the time of his death in December 1906 mention that he had one daughter, a Mrs. D. H. Burtis. The ARIZONA REPUBLICAN also mentions that he was the "playmate of his grandchildren," noting that the children did not call him "Grandpa," but called him by the affectionate nickname of "Pardner."16
However, John Elliott Walker only married in 1886. The daughter is not listed in Walker's family in the 1900 Census, so presumably she was already married by that time. If Mrs. Burtis was indeed John Elliott Walker's daughter, she would have to have married when she was 13 or 14 years old! This is not beyond the realm of possibility, but would have been unusual in that era. Of course, there is also the possibility that Mrs. Burtis was the daughter of Matilda Robbins, by another man, born prior to her marriage to John Elliott Walker. At this point, we simply don't know.17
On December 19, 1906, John Elliott Walker rose from his bed, went out to the outhouse behind his home in Phoenix, and shot himself twice in the head. He had, apparently, been suffering from some undiagnosed illness for the past two weeks which caused him a great deal of pain and which robbed him of much of his memory. In addition, Sheriff Walker was deeply troubled at the time of his death by two recent scandals within the Maricopa County Sheriff's Office. Apparently, he was very frustrated and upset over an ongoing scandal, involving one of his Deputies, regarding the disappearance of $1100.00 from the Sheriff's office. He was also very upset over the escape of a prisoner named Lee Redwine from his jail on Thanksgiving night, 1906. Sheriff Walker was exasperated that the prisoner had not been recaptured, despite the Sheriff having spent over $300.00 trying to find him. Although Walker himself was not directly involved in either of these scandals, friends and colleagues reported that these matters "preyed on his mind" and that he had stated that they were "driving him crazy." Combined with his illness, his frustration over these scandals may have caused some form of acute depression, which likely led to Walker's decision to take his own life.18
Sheriff Walker's obituaries reported that during his funeral on December 21, 1906, Trinity Episcopal Church was so packed with mourners that people were literally standing in the aisles. Another interesting fact mentioned in his obituaries is that he was a prominent Mason, and the Knights Templar, a Masonic order, took part in his funeral.19 Indeed, recent research by Mr. John Ruth of the Arizona Lodge #2, F & AM, has revealed that Sheriff Walker joined Lodge #2 in Phoenix in 1890, and joined the Knight's Templars (York Rite Masons) in 1905.20 However, despite the large funeral, and the fact that he was evidently very well liked in Phoenix, Sheriff Walker was laid to rest in an unmarked grave at Greenwood Memory Lawn Cemetery in Phoenix, Arizona. He was to rest, virtually forgotten, in this unmarked grave for over a century.21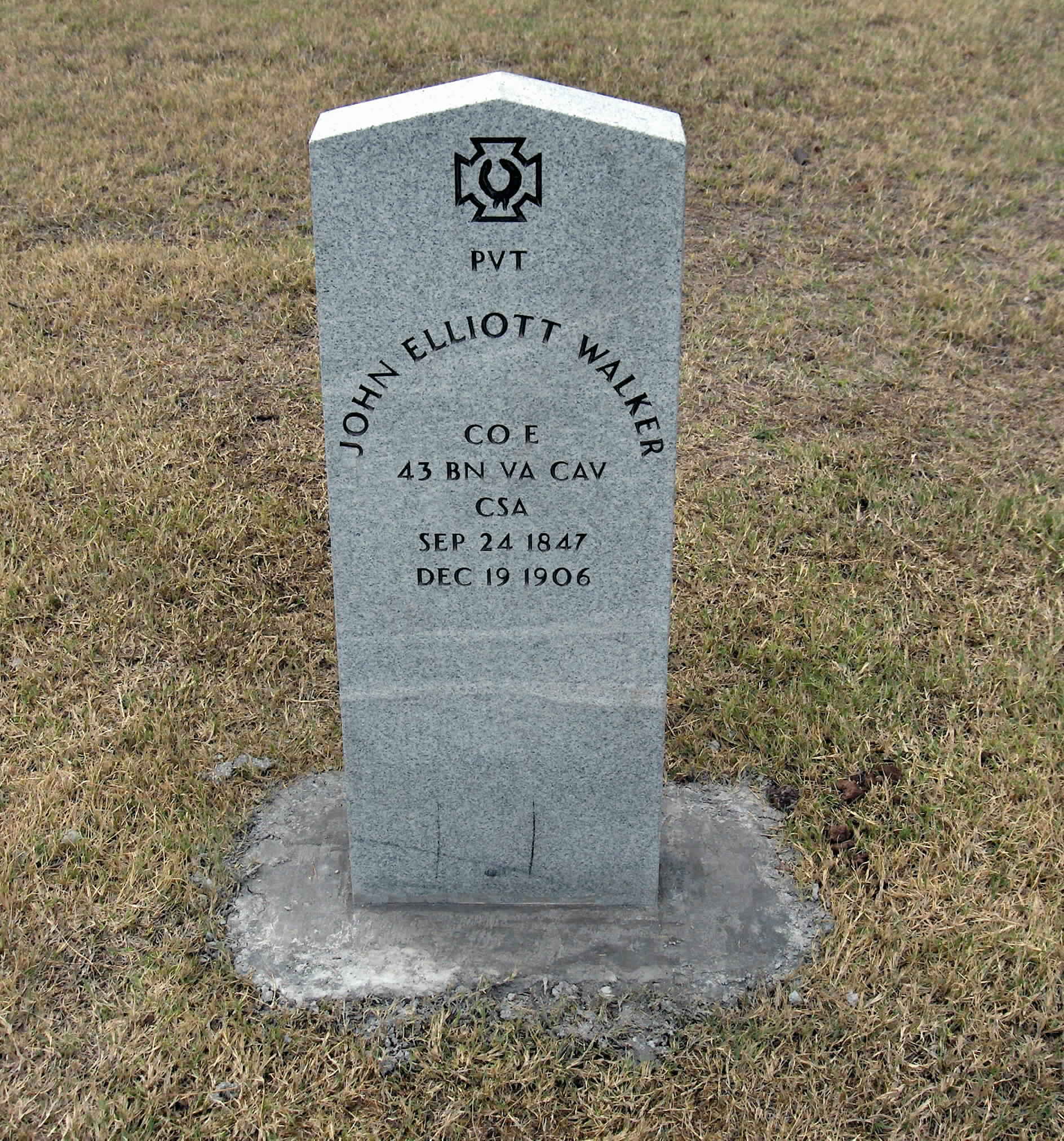 But this situation has been remedied. In 2009, the Colonel Sherod Hunter Camp 1525 of the Sons of Confederate Veterans, in cooperation with Greenwood Memory Lawn Cemetery, obtained a headstone from the Veterans Administration and installed it upon his grave (two views of this stone are shown above). Finally, this brave Confederate veteran, Arizona pioneer, and long-time public servant and law enforcement officer, has been properly honored.
NOTES
1"While Temporarily Insane, Sheriff Walker Takes His Own Life," ARIZONA GAZETTE, December 19, 1906, hereafter cited as GAZETTE; 1850 and 1860 Census, Madison County, Virginia; V.M.I. Archives Historical Rosters Database, Biography of John Elliott Walker, Class of 1868 (online at http://www1.vmi.edu/archiverosters/Details.asp?ID=3181&rform=search), hereafter cited as VMI.
2National Archives, Compiled Military Service Record, Private John E. Walker, Company E, Mosby's Cavalry, hereafter cited as Service Record; Keene, Hugh C., and Horace Milborne. THE 43RD BATTALION VIRGINIA CAVALRY: MOSBY'S COMMAND (Part of the VIRGINIA REGIMENTAL HISTORIES Series), Lynchburg, VA: H. E. Howard, Inc., 1993, p. 379, hereafter cited as Keen and Milborne; VMI; GAZETTE; "Sheriff Walker Dies the Death of a Suicide," ARIZONA REPUBLICAN, December 20, 1906, hereafter cited as REPUBLICAN NEWS ARTICLE.
3Bruce R. Boynton, "A Scottsville Teen in Mosby's Rangers: Henry G. Harris,"article published by the Scottsville Museum, Scottsville, Virginia, online at http://scottsvillemuseum.com/war/harris/home.html. Hereafter cited as Boynton.
4Service Record; Keen and Milborne; VMI.
5Lt. Colonel Newton T. Colby, "The Old Capitol Prison," THE ANNALS OF THE WAR: WRITTEN BY LEADING PARTICIPANTS NORTH AND SOUTH. Edison, New Jersey: Blue and Grey Press, 1996 (reprint/orig. pub. 1877).
6Boynton.
7Service Record; Keen and Milborne; VMI.
8Boynton.
9VMI; GAZETTE.
101870 Census, Madison County, Virginia; 1880 Census, Sonoma County, California; VMI; REPUBLICAN NEWS ARTICLE; GAZETTE.
11GAZETTE; REPUBLICAN NEWS ARTICLE; VMI.
12GAZETTE; REPUBLICAN NEWS ARTICLE; "History of the Maricopa County Sheriff: 130 Years of Law Enforcement Tradition," article published by the Maricopa Lodge #5, Fraternal Order of Police, online at http://www.azfop5.com/Sheriff%20J_Walker.htm. Hereafter cited as F.O.P.
13F.O.P.; REPUBLICAN NEWS ARTICLE..
141900 Census, Coconino County, Arizona Territory.
15F.O.P.; GAZETTE; REPUBLICAN NEWS ARTICLE.
16REPUBLICAN NEWS ARTICLE; GAZETTE; "The Last of Earth for Sheriff Walker," ARIZONA REPUBLICAN, December 22, 1906, hereafter cited as REPUBLICAN OBIT.
171900 Census, Coconino County, Arizona Territory; REPUBLICAN NEWS ARTICLE; GAZETTE.
18REPUBLICAN NEWS ARTICLE; GAZETTE.
19REPUBLICAN OBIT; "Sheriff Walker is at Rest," ARIZONA GAZETTE, December 21, 1906.
20John Ruth, from records of Arizona Lodge #2, Free and Accepted Masons (F&AM), Phoenix, Arizona.
21Whether there was a stone at one time which has since disappeared, or whether there never was a stone, is unknown. Records at Greenwood Memory Lawn Cemetery do not reveal an answer, either way. However, given that Sheriff Walker died by suicide, the latter is likely to be the case. Suicides were usually buried in unmarked graves during that time period.

Some clipart on this page was used courtesy of

and

The midi arrangement of "Dixieland" was composed and is copyrighted by Benjamin Tubb.
For more great tunes like this, visit his website..Public Domain Music.

BACK TO THE ARIZONA CONFEDERATES PAGE

BACK TO THE HOMEPAGE
Copyright 2009 by the Colonel Sherod Hunter Camp 1525, Sons of Confederate Veterans, Phoenix, Arizona.
All rights reserved. Last updated on 7 June 2009.