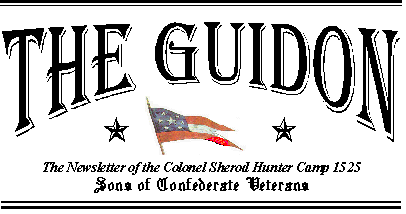 Not a Subscriber to THE GUIDON?
Every issue contains thought provoking editorials, both by the Editor of THE GUIDON and by guest editorialists; detailed and well-researched historical articles; and every issue features the following columns...
CAMP NEWS: recent happenings in our Camp.
THE DEFENDER: news from across the nation of issues affecting our Confederate Heritage.
CONFEDERATE TRIVIA: Test your knowledge on these tough questions!
THE BULLETIN BOARD: Upcoming events of interest to our members.
ARIZONA GAZETTEER: What are the other Camps in our Arizona Division doing?
REBEL RHYMES: Read the poetry and song lyrics which inspired your ancestors.
THE GUIDON has twice won the national S.C.V.'s prestigious Dr. Paul Jon Miller Award for BEST NEWSLETTER, and the newest edition continues that tradition of quality.
So what are you waiting for? Subscriptions are only $13.00 a year and may be sent in with your dues to our Camp Adjutant Larry Billar at 5639 W. Altadena, Glendale, AZ 85304, or directly to Camp Secretary (and GUIDON Editor) Robert Perkins, 8126 W. Dreyfus Dr., Peoria, AZ 85381.
SUBSCRIBE TODAY!

Some clipart on this page was used courtesy of

The music file of WE CONQUER OR DIE was composed and is copyrighted by Benjamin Tubb. For more great tunes like this one, visit his website, The Music of the American Civil War (1861-1865).

Copyright 2003 by the Colonel Sherod Hunter Camp 1525, Sons of Confederate Veterans, Phoenix, Arizona. . All rights reserved. Questions and comments about this site should go to the Webmaster. Last updated on 20 October 2003.

BACK TO "ABOUT OUR CAMP"

BACK TO HOME PAGE