WHAT'S

View the latest issue of the online version of our Camp Newsletter, THE GUIDON...
See the most recent Camp Calendar on the Upcoming Events page...
and last but not least, the Stagecoach Station Link Page, has been UPDATED as of 8/9/2012!


Joe Bob, the Reb-Counter (see portrait above) has been countin' you Rebs since September 10, 1998.
Some dad-blamed varmint keeps erasing his ciphers while he ain't lookin', but he says
Rebs have visited the Confederate Territory of Arizona since February 14, 2011.
We hope y'all enjoyed your visit to the Confederate Territory of Arizona. Come back and see us again real soon!

GOD SAVE THE SOUTHERN CONFEDERACY!!!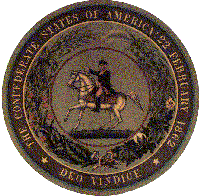 The music file of BONNIE BLUE FLAG was composed and is copyrighted by Barry Taylor.
Great, a'int it? For more great midi files like this one, check out
THE CONTEMPLATOR'S FOLK MUSIC SITE.
Some clipart on this page used courtesy of



and

Copyright 1999-201

2, Colonel Sherod Hunter Camp 1525, Sons of Confederate Veterans, Phoenix, Arizona.

Questions or comments about this site should go to The Webmaster. All rights reserved. Last updated on

10 August 2012.